"People we love" is a column where we interview artists that we love and get an exclusive sneak peek at them, their art, and their view on the world. In this installment, we meet Alex D'Alva Teixeira, best known for his work with his band D'ALVA.
Hi, Alex! First things first, for those who are not aware of who you are, can you give us an introduction?
Every time I introduce myself, I like to start with "Hi, my name is Alex." I'm a Lisbon-based musician, mostly known to be one-third of an alternative pop band called D'ALVA. I'm half Brazilian and half African, and I grew up in a very small town called Moita. This means that while I was growing up I was being exposed to lots of different cultures, and the fusion between all of them is quite perceptible in my work as a songwriter and performer. Apart from music, I've also been proudly working at CheckpointLX, a community-based center that fights against HIV and other STIs, and which is also raising awareness for matters related to sexual health.
As any other, music making is such a complex form of art, how did this search for sounds e rhythm started?
Ever since I was a little kid, I loved music and I knew I wanted to be a singer. My mom used to play guitar in our local church, and when I first saw artists like Michael Jackson or Nirvana on TV I knew that that's what I wanted to do too. As I was growing up, I formed bands with friends and my little sister. A few years later, serendipitously, I got to meet Ben Monteiro, and now we make music together (that's the short version of the story, anyway).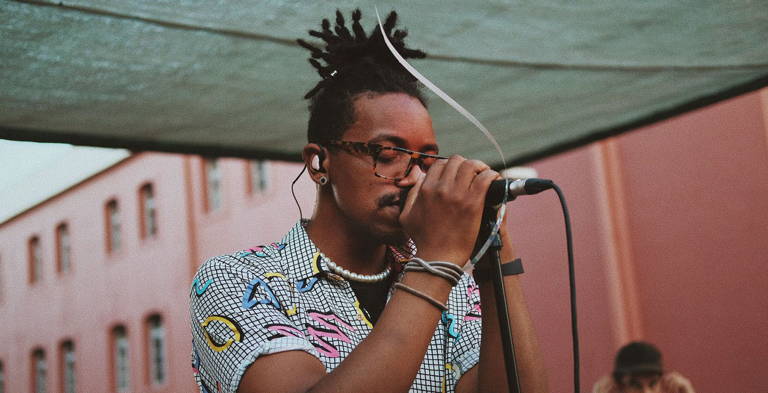 Everyone has their music heroes, I know I do. Who are yours?
I could make a huge list with tons of names, because I'm pretty eclectic and lucky enough to be influenced by several different music genres. But the fact is that I'm even luckier to be in a band with my musical heroes from Portugal's local scene. Every member of D'ALVA used to be part of some band in the punk scene that had a big impact on my life. Right now, we are making pop music together, but our attitude has always been punk, and we still keep many of the DIY values we learned from our past hardcore projects. Aside from D'ALVA, I'm also extremely honored to share a rock project called ALGUMACENA with Ricardo Martins, a well-regarded and reputable drummer and composer, who is known for his work on experimental music, free jazz, and punk hardcore as well.

Art is something so widely spread and appreciated that people always wonder what's it like to actually make it. How does it work for you? Do you feel it's like an urge that you cannot control or is there anything in particular that inspires you and draws you into music?
For me, it's quite difficult to separate "what I do" from "what I am": an artist can never cease to be one, regardless of whether or not that artistic practice itself is being executed at the time. When it comes to music, I'm always thinking of melodies and sonic compositions; it feels like I'm writing songs in my imagination, and afterwards, I try to record those ideas. Sometimes I just like to mess around with a guitar, trying different chord progressions, and sometimes that's how new songs are born. Creativity and inspiration don't pick a time and a place, so I never know when I will get a new idea for a song, but that's how it works with me.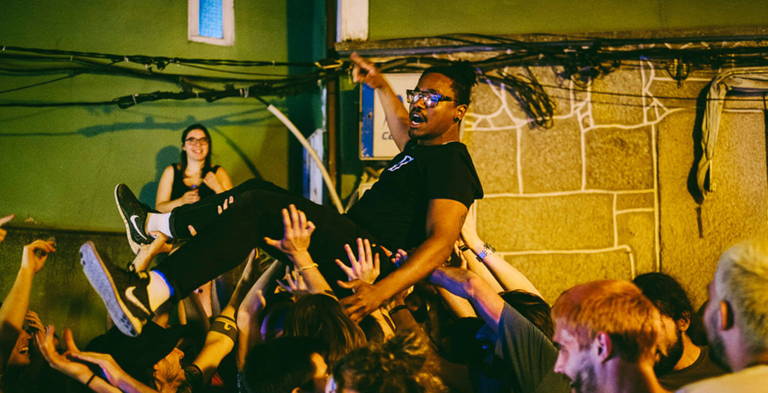 Having a well established career, working with other artists, brands, touring, and much more, which moment or moments do you hold closest to your heart?
Being in D'ALVA opened so many doors: we've been so lucky and blessed to be able to experience so many unforgettable moments, like playing in festivals such as NOS Alive and Super Bock Super Rock, as well as frequently collaborating with Luis Carvalho, a superb fashion designer who headlines ModaLisboa – Lisboa Fashion Week.
"Honesty Bar", your latest single with Claudia Pascoal came out in April! Any special plans for the remainder of 2021 and next year?
We're currently working on our third studio album. We want it to be our most collaborative album to date; we want to bring fellow artists from different music genres and scenes to our sonic universe, and to keep embracing diversity and celebrating that unity through our music.
It's time for some quick-fire questions!
Anything with BBQ sauce on it! 😂 I also love Brazilian food.
I don't have a favorite movie, but I love teenage comedies like Mean Girls.
If you were not a musician, what would you'd like to be?
In my teen years, I studied graphic design, but I'm really glad I'm not doing design anymore. Right now I'm really happy working at CheckpointLX, it's really rewarding to do something that really contributes positively to the LGBTQ+ community.
Any advice for aspiring musicians?
Don't be afraid to be your own true self. Be patient, great things take time. And most of all do it for love, and don't forget to have fun in the process.
Listen to more tunes from D'ALVA on the playlist below: