When it comes to updating your Winter wardrobe staples, it is usually said there's no better time than the Holidays. Come to think about it, the timing seems perfect indeed: the season is underway but still with enough cold days ahead and that money envelope from your granny comes in extra handy for the purpose. With the fundamental requirements out of the way (thanks 'nan), the next step consists "solely" on deciding which pieces to go for.
Now, whether your personal style leans more towards street or replicates the inherent nonchalance of Italian tailoring, the matter of fact is that time has dictated the essential staples one must own. Be it that double-breasted peak lapelled overcoat or an oversized puffer, these are statements pieces you should consider investing in.
Without further ado, let's go over some of the menswear staples you should consider for the season, as well as some available options at The Feeting Room:
Unmistakably the most sophisticated option on the list, a tailored overcoat is likely one of the most versatile as well. The most traditional version is the 3-button single breasted, which has been around for longer than we can remember. If you go for a classic design, chances are it will resist the test of time for years to come and easily adapt to any personal style variations you may embrace. The best part about it is how easily you can change from wearing it with a suit and tie, to donning it with denim and a hoodie underneath.
With work and streetwear becoming more and more mainstream in today's society, classic staples start making a comeback into new collections. One such case is definitely the Worker Jacket, uniform for blue-collar workers of old. Many versions have been presented throughout the years, though some key features remain – 5-button closure, 2 patch side pockets and 1 more at the chest, small round collar and short length sitting at the waist. While it's more casual in nature, current standards and high-end fabrics may make it office-appropriate.
Yet another statement piece with military origins, the Bomber dates back to 1950s when it was made popular by European Air Forces. Back then it was made of leather and featured shearling collar for extra protection against the cold. Nowadays it has become a pillar of street style and although there are still leather versions available, the most common ones feature synthetic or cotton shells. While some brands have delivered more sophisticated versions of the style, the Bomber remains a casual essential, featuring a puffed construction, front zipper closure and very short length.
Created by Charles Macintosh in the 1800s, the Mac is a unique raincoat made popular by its advanced technology at the time – the rubberized fabric made it waterproof and an instant success. It became an icon of British style and a standard uniform for British police and military. More than 200 years later it still remains a winter staple, although the original fabric is now a trademark and few other brands resort to similar ones. Modern interpretations of the Mac feature cotton shells with waterproof treatments and can be seen throughout a range of styles, from formal to street. The most traditional version is single breasted, sits at the thigh and features front button closure, two side pockets and a small point collar.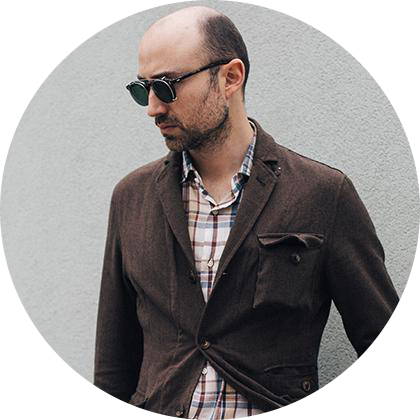 Miguel has been working in Fashion Marketing for the last 10 years, after undergoing a complete life change from his previous work as a Civil Engineer (his academic background). He also founded the well-renowned menswear and lifestyle blog Beyond Fabric. His style has continuously evolved over the years, going from sartorial to a more comprehensive and eclectic approach. Other passions besides fashion, include cars, bikes, watches and cooking.