Portuguese people love to eat - meals are often planned in advance and they constitute the main trigger for socialization with friends and family. As such, there is no shortage of typical dishes, which are masterfully served in restaurants that feel as homey as Grandma's house and in shady joints that prove one should never judge a book by its cover.
To help you figure out the best traditional food and restaurants to try in Lisbon, our local team has picked out a selection of mandatory Portuguese dishes and typical places in town to taste them.
Cervejaria Ramiro interior - photo via timeout.pt
I have to start by saying that having traditional Portuguese food in Lisbon's city centre is becoming a rare thing to do, since most restaurants are being renovated and new menus with more diverse (and sometimes healthier) options are becoming more popular. Having said that, there are still a few gems. The first one that comes to mind is Cervejaria Ramiro, but you probably already know this place. Seafood is one of my favourite things to eat and they do serve the best seafood in the city. You can also try Belcanto which is a really nice fine dining experience but pay double the price for the same quality seafood, if you don't like waiting in a queue (they don't take reservations) and want something more glamorous. Portuguese Cervejarias (beer places) are one of the most traditional places to eat straightforward food (simply boiled seafood, steak sandwiches and other traditional Portuguese fast food) and drink beer, but unfortunately they are getting lost in the big city.

- Elisabete, Sales Assistant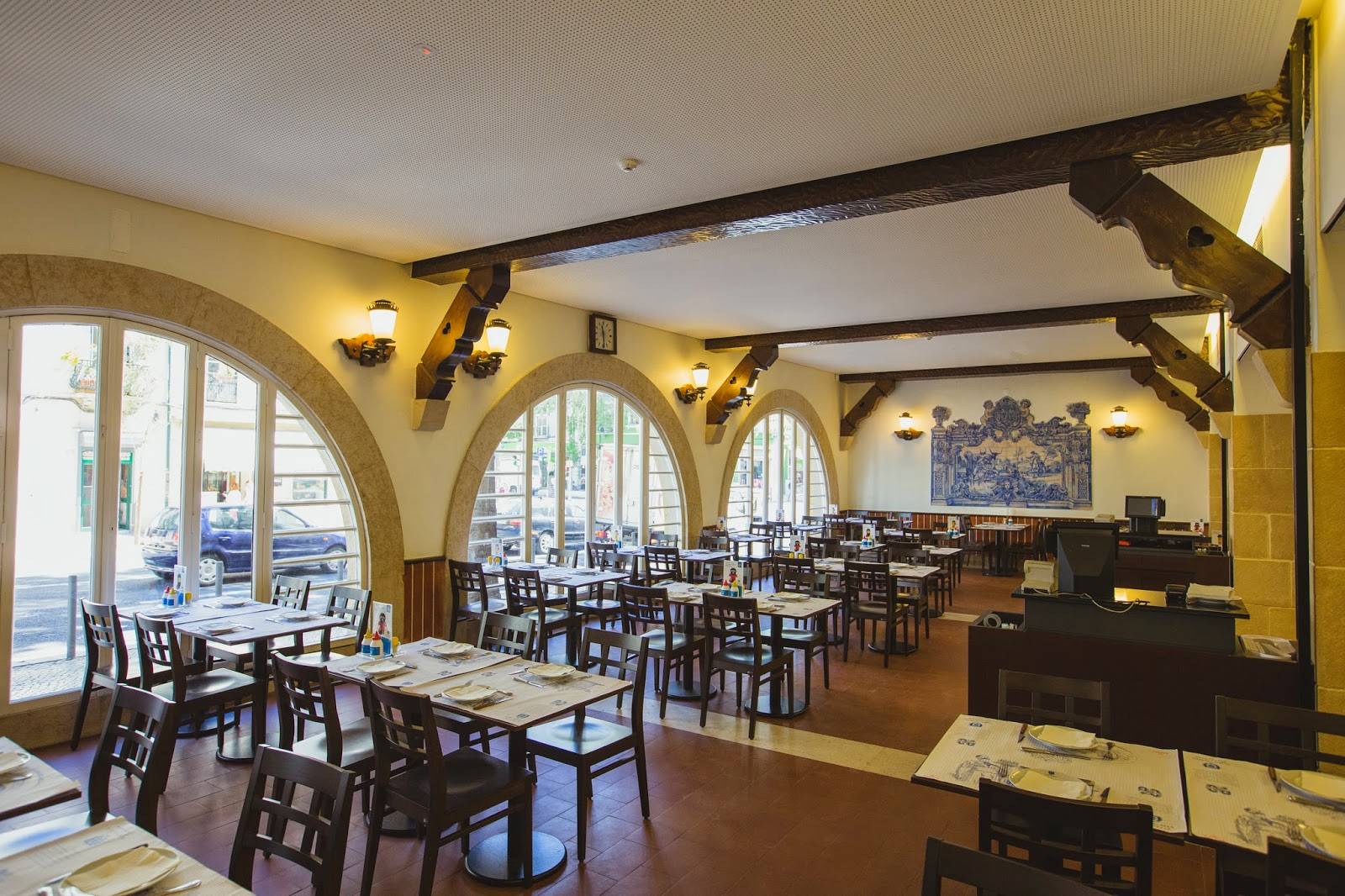 Cervejaria Portugália interior - photo via thefork.pt
Cervejaria Portugália is a very established restaurant in Lisbon where you can find the most typical Portuguese dishes. Open since 1925, their beer was considered the best in Portugal and the main reason for so many visitors, and with time seafood and the famous steaks joined the menu. It was a meeting point for artists, sportspeople and journalists, such as Amália Rodrigues (queen of Fado music).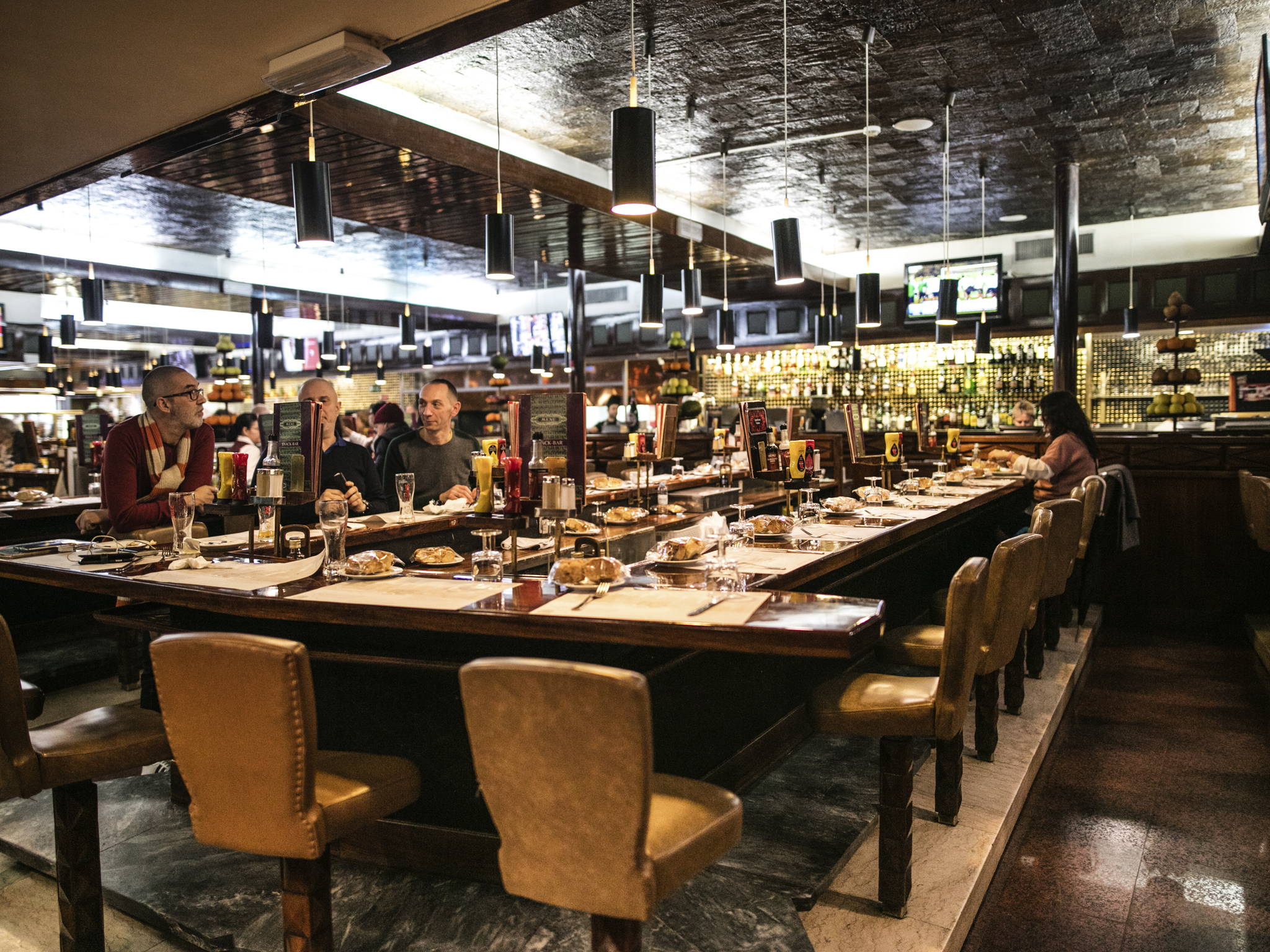 Galeto restaurant interior - photo via timeout.pt
Another Lisbon gem is Galeto. This is located in Saldanha, not exactly located for the tourists but still worth a visit! This restaurant is over 50 years old and not only has amazing dishes but the architecture itself is food for the eyes. Really cool 70's style. I usually have a Bife Galeto (Galeto's style steak) - an old school sirloin steak with ham, pickles, esparregado (an old-school purée with spinach) and typical Portuguese steak sauce. All their dishes are typical portuguese (a lot of meats and cod) and very very well made.

- Elisabete, Sales Assistant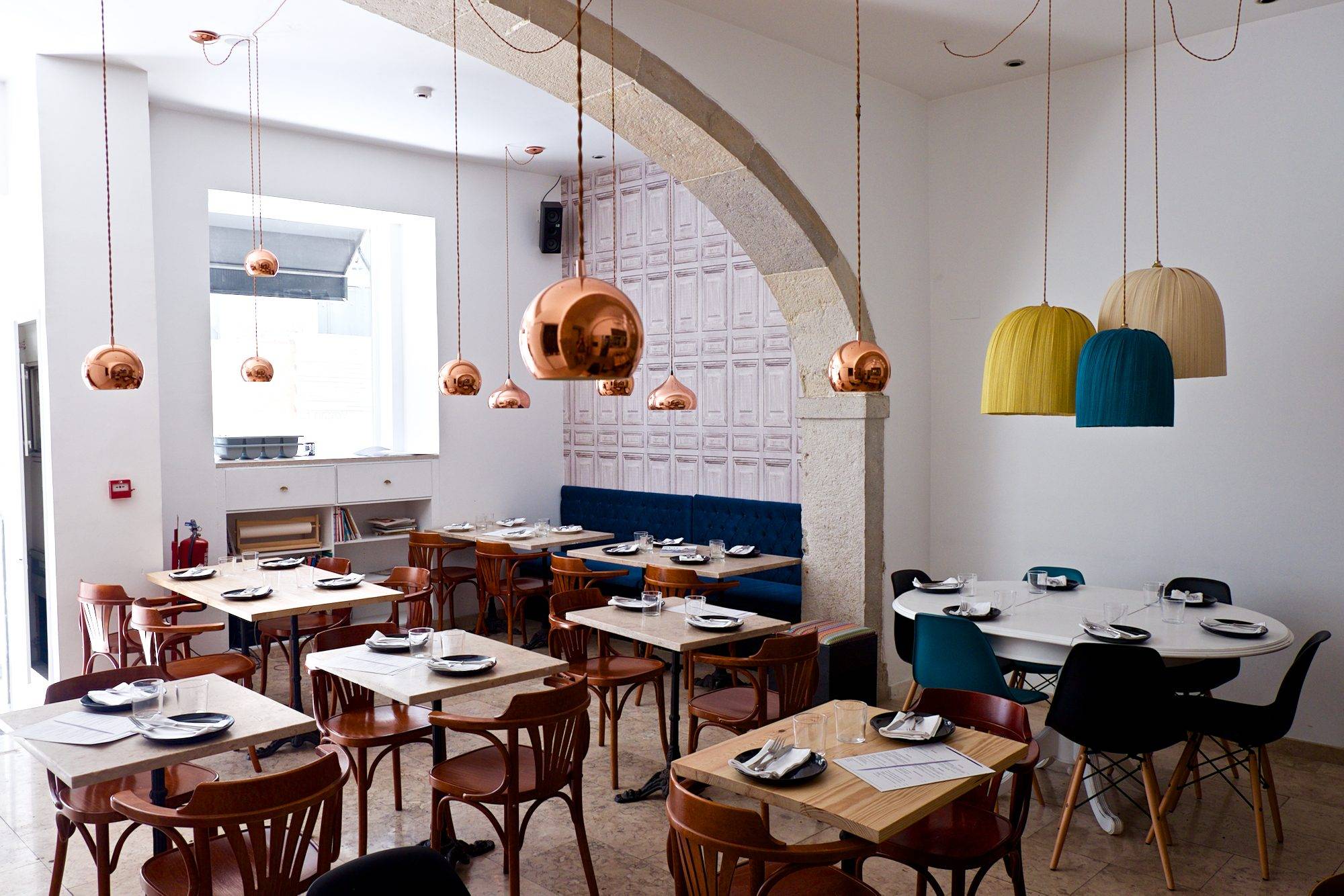 Ao 26 Vegan Food Project interior - photo via espalhafactos.com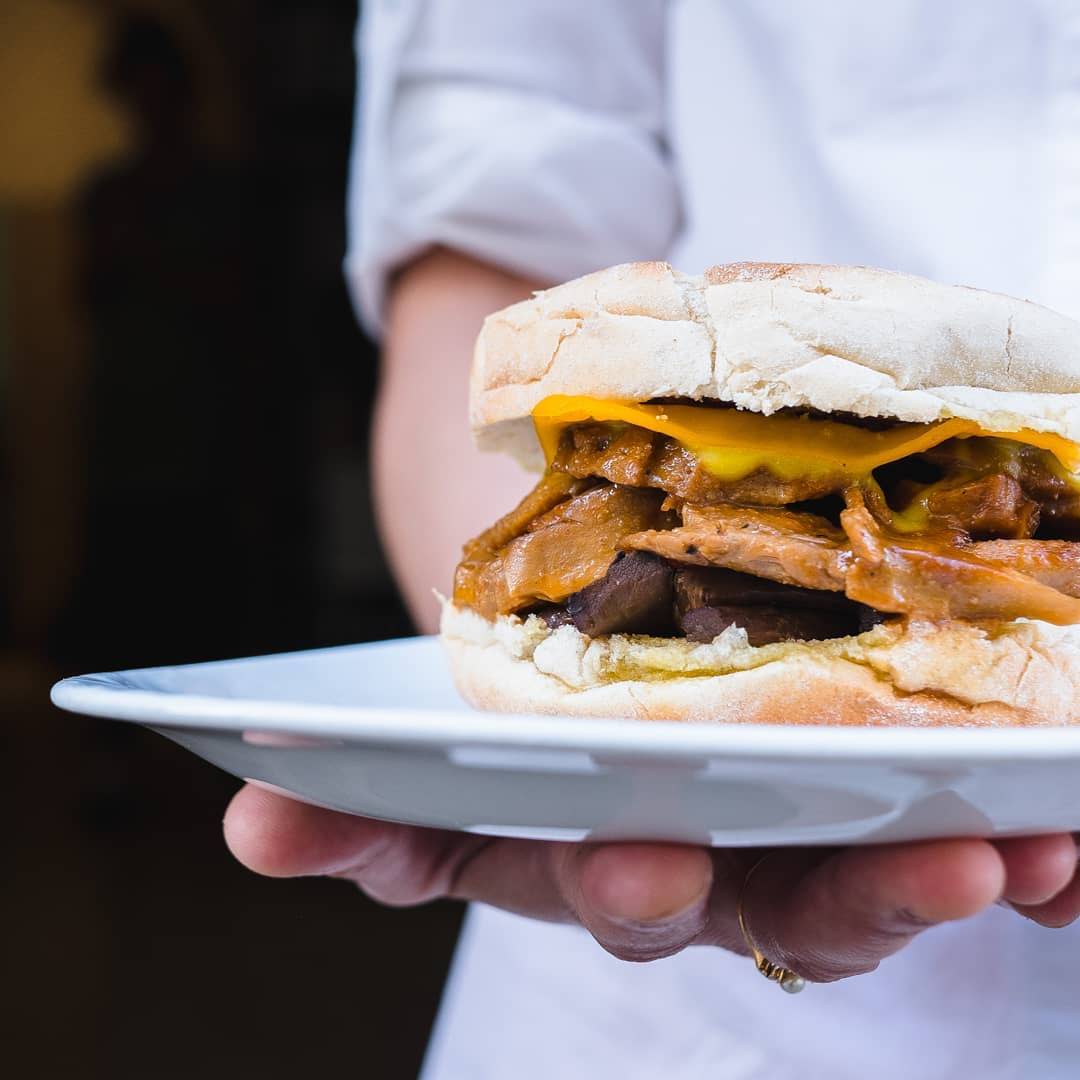 Vegan bifana sandwich - Photo via Instagram @ao26veganfoodproject
Being the Lisbon store's resident vegan, I have to put Ao 26 Vegan Food project in the number one spot. It is my favourite vegan restaurant in town, not only because of their inventiveness and carefulness, but also because they have put on their menu vegan versions of traditional portuguese dishes like Bifana and Francesinha. Right in the heart of Chiado, it has an amazing chill environment and comfy food.

Bairro do Avillez interior - photo via timeout.pt
In the heart of Chiado lives Bairro do Avillez, where José Avillez, one of the most praised Portuguese chefs, created the most atypical restaurant that combines different, yet complementary concepts. You'll find Mercearia and their delicacies, Taberna for those who want some hearty food, Páteo if you're looking for seafood and Beco, where an internationally-inspired menu is waiting for you. It also has a cabaret show!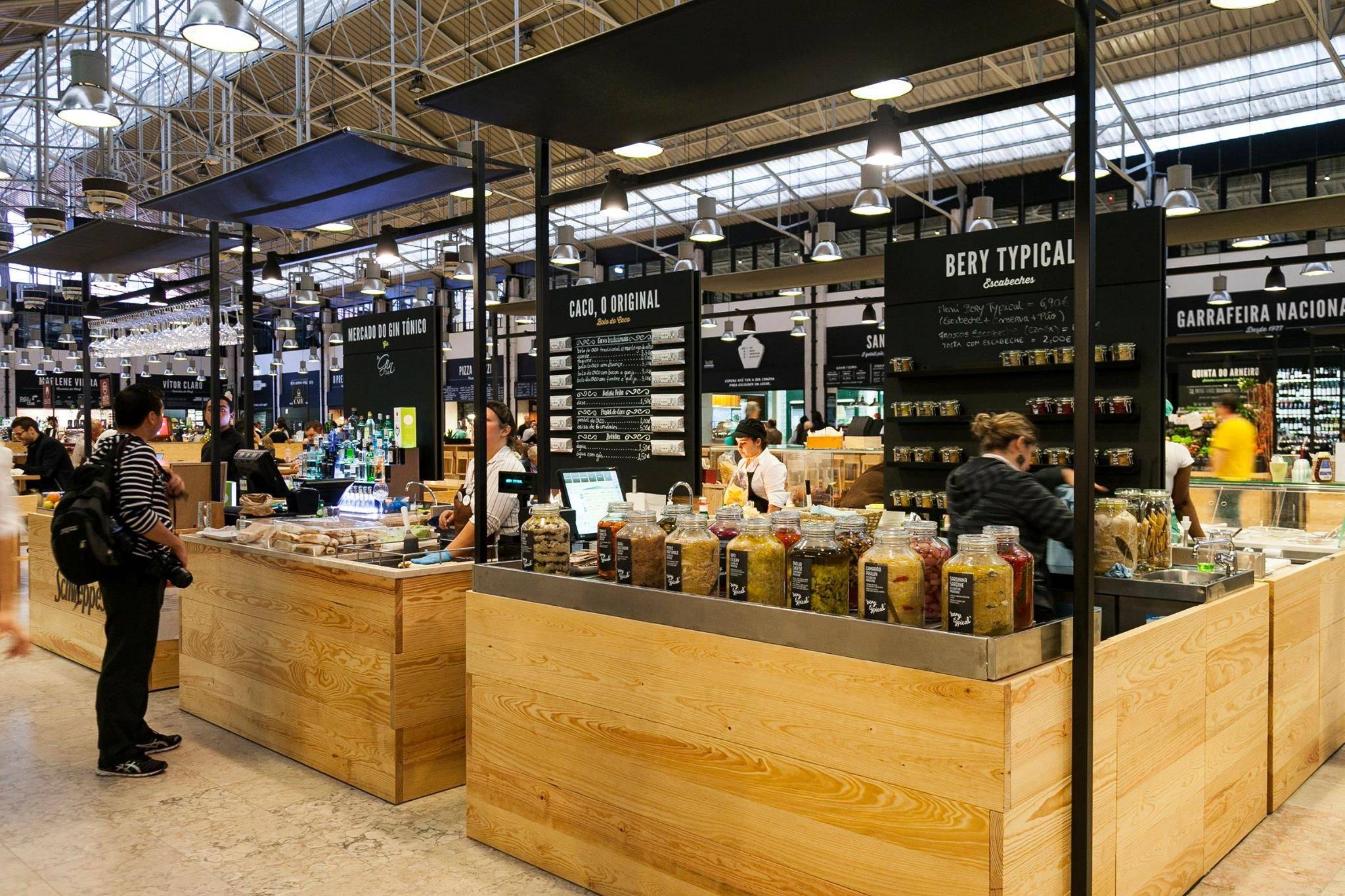 Mercado da Ribeira interior - photo via Pinterest
If you are looking for a quick stop to eat, try Mercado da Ribeira! It's a 2 minute walk from Cais do Sodré train station and you can find more than 20 gourmet fast food restaurants. Have a good time!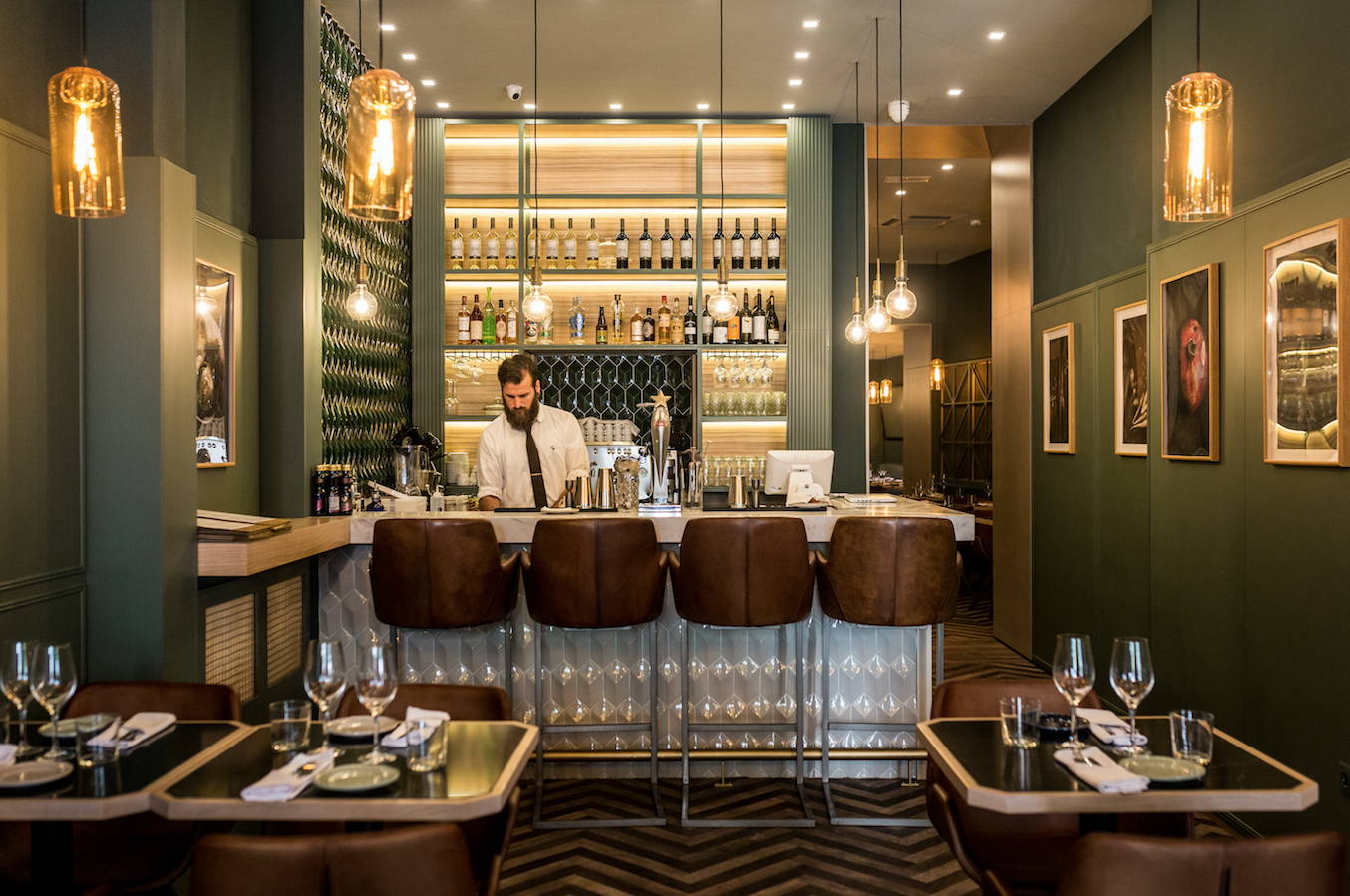 The Green Affair interior - photo via timeout.pt
The Green Affair has just opened in Chiado and it's one of the cheapest vegan restaurants in Lisbon. They have their own dishes but offer vegan versions of traditional portuguese dishes as well like a steak with pepper sauce but it's a homemade seitan steak and even a version of the famous "polvo à lagareiro" but with tofu. Their food is outstanding and it's currently my favourite vegan restaurant.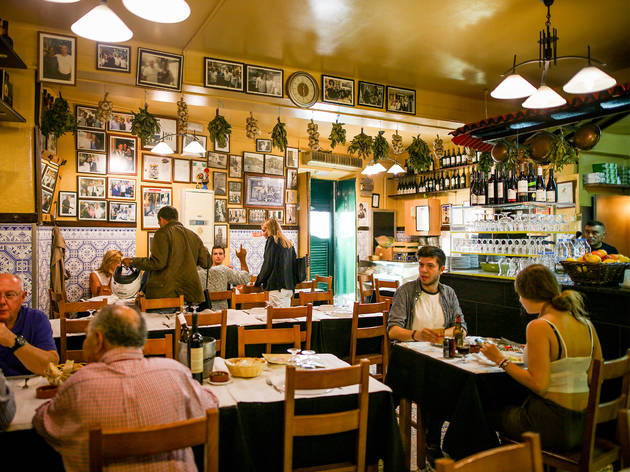 Zé da Mouraria interior - photo via timeout.pt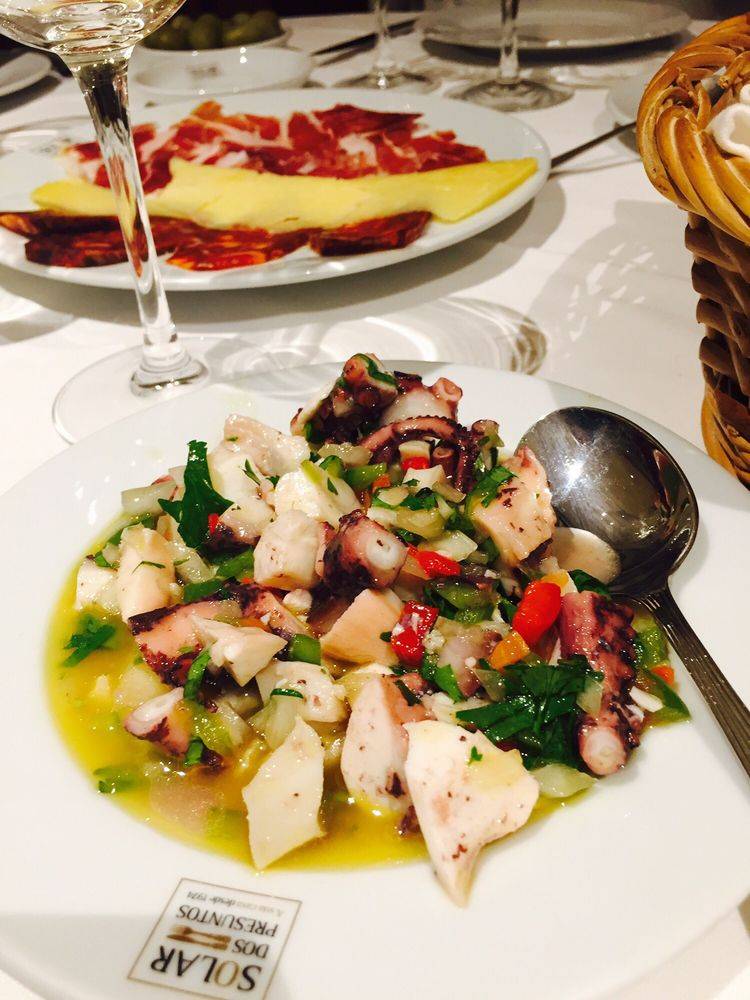 Octopus salad at Solar dos Presuntos - Photo via yelp.com
It's hard to recommend only a few places so I have to extend a bit (did you notice I love to eat?). I do not have one traditional dish I like so I will recommend two very similar restaurants for cheap and the best portuguese food Lisbon can offer. Zé da Mouraria is very famous and highly recommended, traditional, amazing and cheap. From flame grilled meats, squid, octopus or cod, which are all covered in garlic, onions and olive oil. Simple, amazing and cheap, but you have to book as it is getting known and only work with reservations. As amazing as this one but probably without the need to book is Carvoaria Jacto. The same type of amazing traditional foods but not as known for the tourists. A smaller restaurant, not very nicely decorated, but one of the best in town. Again, if you want something more glamourous and fine dining but with the same type of traditional dishes, I recommend Solar dos Presuntos. You will have walls covered by photographs of world famous celebrities and that is a sign of great food. This is my favourite restaurant in Lisbon but it is more expensive than the other two so I can only go in special occasions. If you have the chance to go you have to try the parma ham (which you can see the waiters slice from the outside), and then they will have very traditional northern portugal foods from goat in the oven to eel stew, or more popular dishes like roasted octopus or lamb chops. You will be happy here.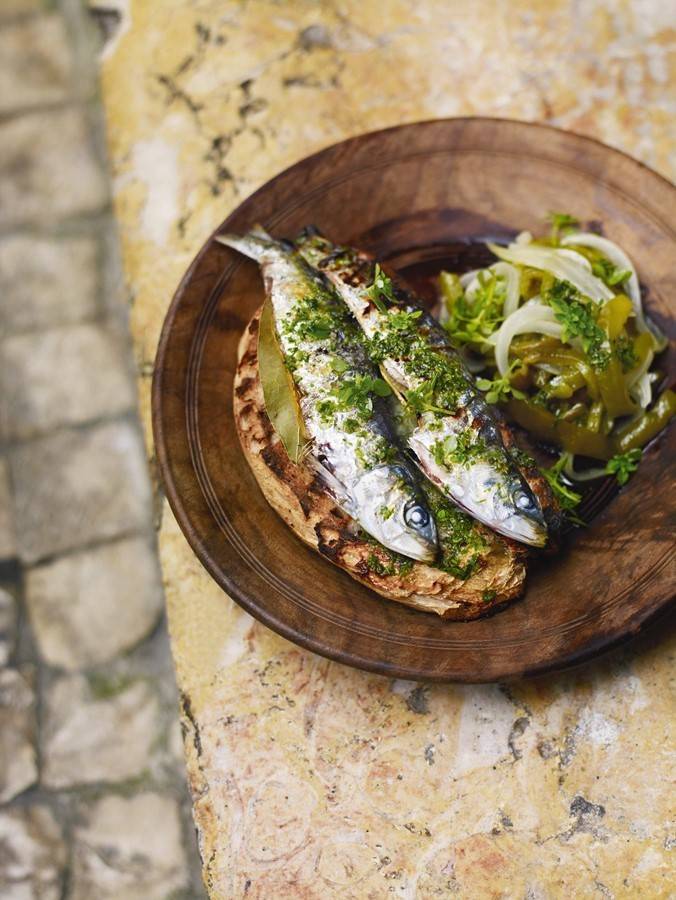 Photo via casalmisterio.com
Since I'm from the South of Portugal one of my go to foods during summer is Sardinhas no Pão aka sardines on bread. It's a very typical and tasty "dish".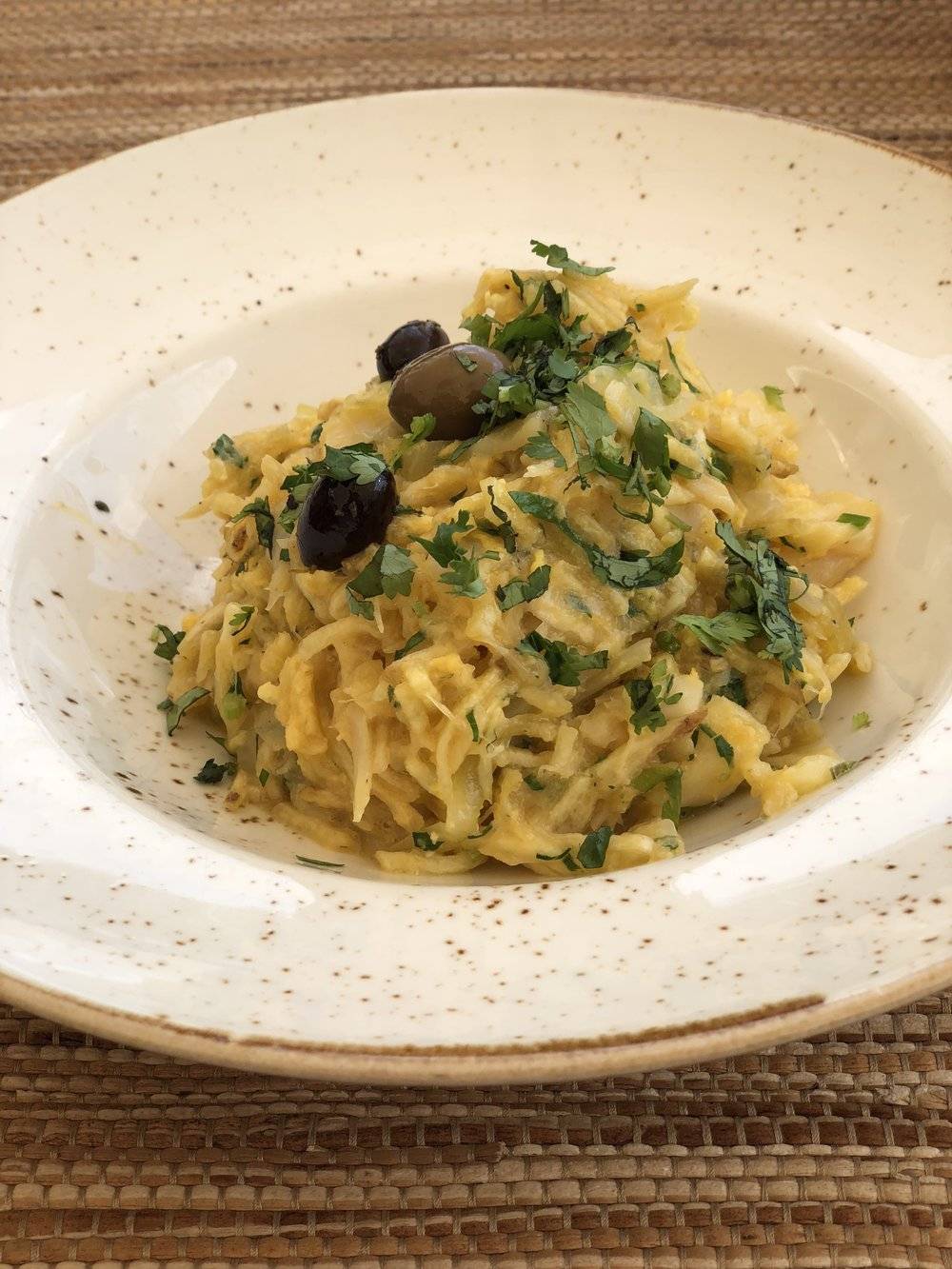 Photo via vivaportugal.blog
Another really typical fish portuguese people eat a lot is Bacalhau à Brás, which is made from shreds of salted cod, onions and fried potatoes all bound with scrambled eggs. This is one of my favorite dishes.

Located 45 minutes from Lisbon, Setúbal is a fisherman city by Sado's river. In that beautiful town there is a specific dish that only in Setúbal is made with such marvelous taste: Choco Frito de Setúbal - Setúbal's Fried Cuttlefish. Have a try, it is worth it!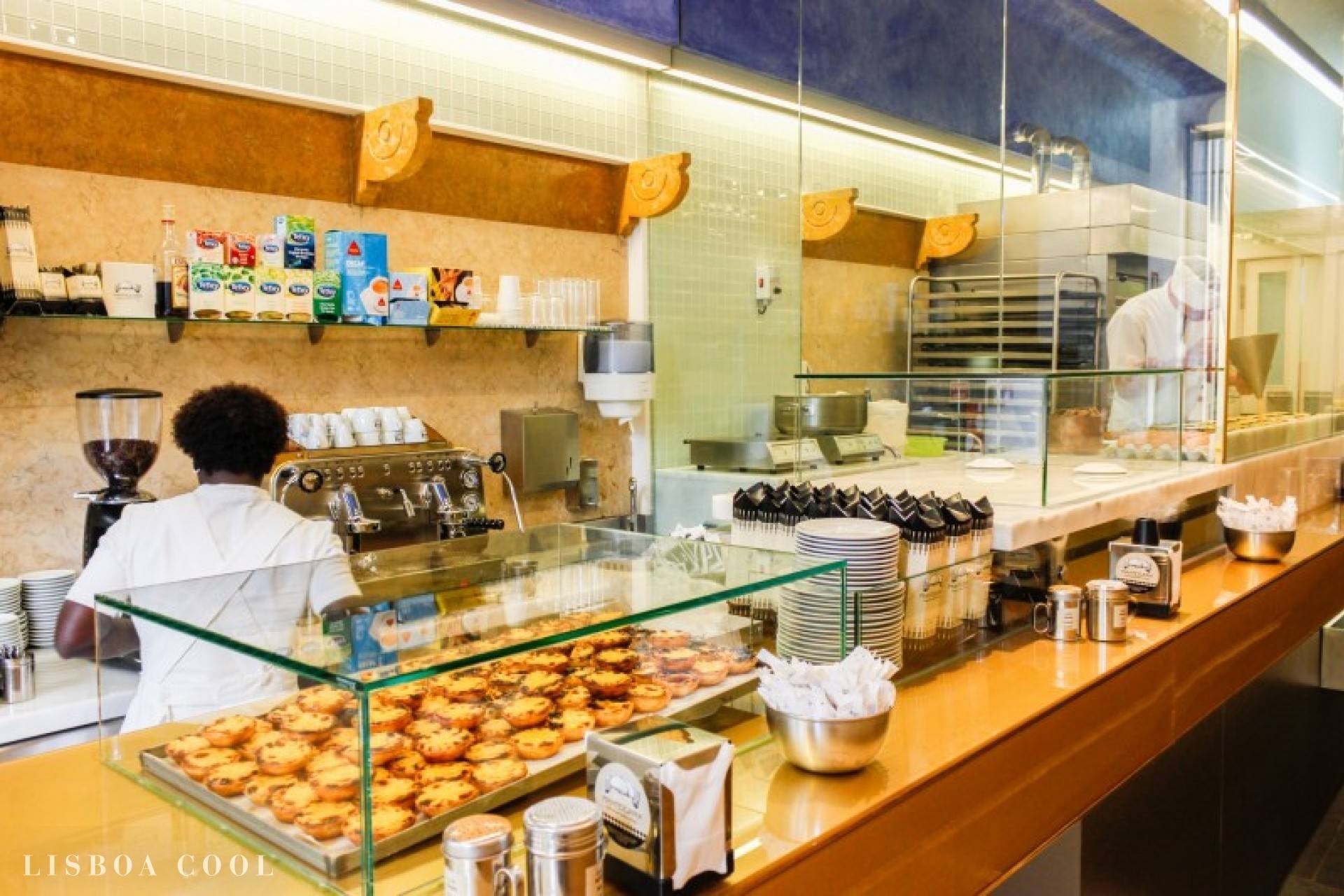 Manteigaria interior - photo via lisboacool.com
Know that whatever you've been hearing about the famous Portuguese cream custard tart, there is only one truth. The best Portuguese "pastel de nata" can only be found in Manteigaria (Portuguese custard pies factory). They even ring the bell when a cream custard tart's batch has just left the oven.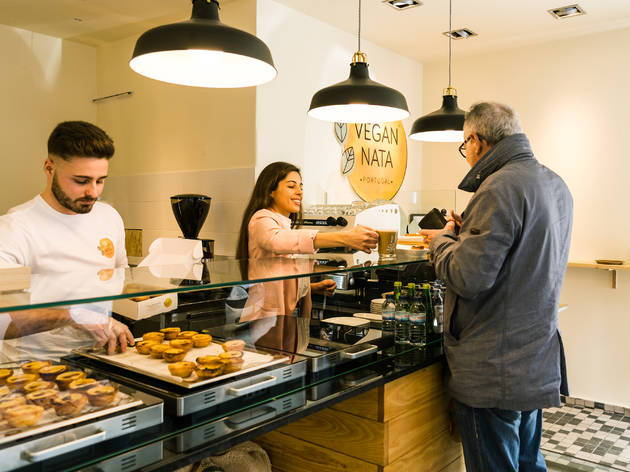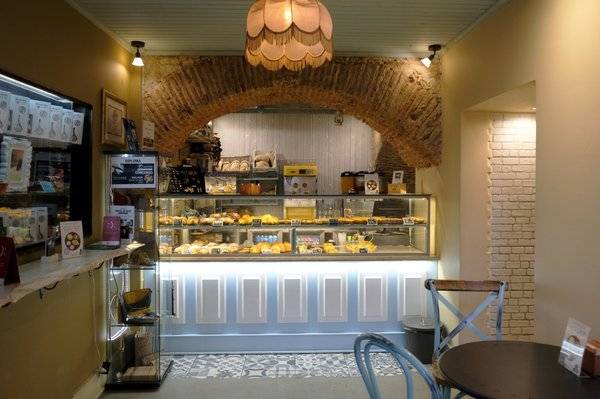 Photo via theworlds50best.com
Pastel de Nata vegan - Who said that vegans would be left out of the pastel de nata party ? Across the whole city you have plenty places that offer their own vegan versions of this famous Portuguese pastry. You can find it at: Vegan Nata Portugal (Campo de Ourique); Pastelaria Batalha (Chiado); DaTerra (Bairro Alto). All of them are delicious !