The daughter of a dressmaker, Alexandra Carneiro grew up in a time when clothes were tailormade with a concern for durability, which trained her from a young age with a keen eye for exceptional quality and detailing. This proved useful when as an adult she realized there was a lack for pieces that matched versatility, sophistication and comfort for modern women like herself.
And so, the roots for A-line were set. Created in 2016, the brand aims to reinvent an indisputable womenswear's essential – the white shirt. By tearing apart this wardrobe staple and piecing it back together by experimenting with fit, cuts and materials, Alexandra and her team create unconventional shapes that compliment the female silhouette. The result is a selection of timeless and functional pieces handcrafted according to high quality standards.
In its 'Essentials' collection, A-line presents a series of closet classics. The shirt is here seen in its purest form, maintaining key elements such as buttoning, collar and cuffed sleeves, while making subtle yet sophisticated plays on shape and materials. These are the must-haves, the wardrobe staples that can be effortlessly styled and adapted to a number of occasions.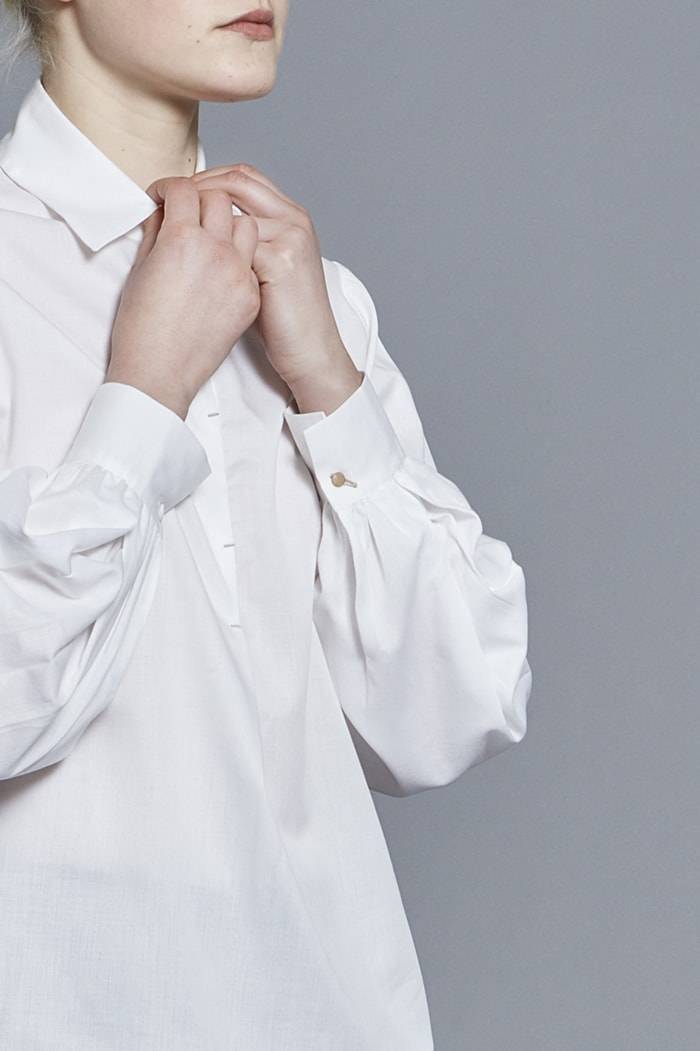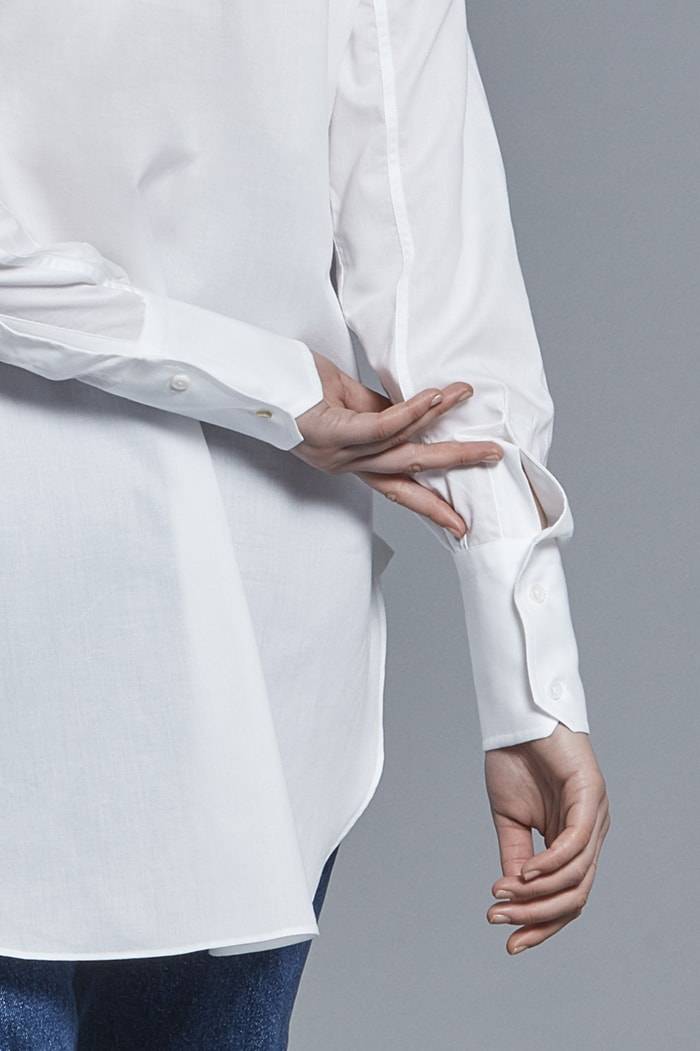 The 'Editions' are where A-line makes its boldest moves. These seasonal drops are new chapters where the brand further deconstructs and redesigns women's shirts and blouses. The outcome are nonetheless adaptable pieces produced with the highest quality, only now displaying more stylized and unconventional approaches. Ruffles, incorporated neckties, wider sleeves and broader necklines are some of the elements added to acknowledge a woman's chameleonic nature and her need for self-expression.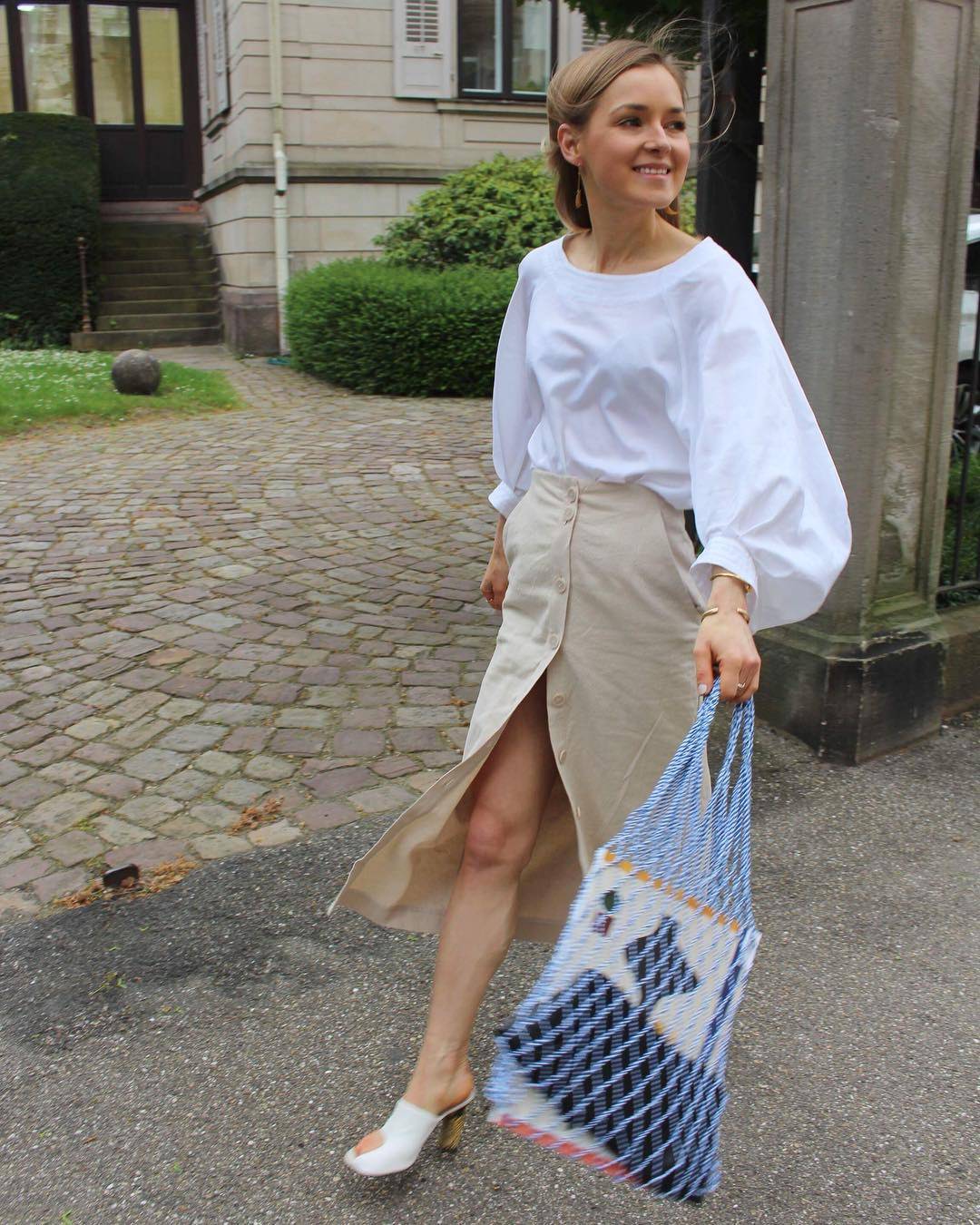 Influencer Anna Borisovna in A-Line Valerie Blouse / via IG @annaaborisovna
Influencer Sara Strand in A-Line Jacquard Jacket and High-Waisted Trousers / via IG @sarastrandno
A-line's latest chapter, Edition 03, marks a turning point for the brand, where it introduces an extended range of garments. Inspired by the contemporary globetrotter who can both wander around an idyllic beach destination and find herself amidst the frenzy of a cosmopolitan city, this new chapter reveals a coherent collection that also includes dresses, trousers and jackets, allowing for co-ordinated styling and total looks.